What Is Play.ht AI?
Play.ht AI believe speech is the next frontier on user experience. It's the 2nd most consumed format on the internet. The mission is to empower individuals and businesses to create the most natural speech content using state of the art AI voices.
Play.ht was started as a chrome extension for listening to Medium articles back in 2016. Being busy individuals we thought it would be a neat idea to build an extension that would read articles. Turned out, a lot of people wanted the extension. They were featured on Product Hunt for being one of the best products!
In late 2017, they saw a bigger opportunity in providing Play.ht as a tool to help individuals and businesses create realistic audio content for their applications. The services include making articles accessible with audio and providing an easy to use Text to Audio editor for creating speech.
We've been focused on these use cases ever since. Today, they help some of the largest companies on the globe create high-quality text to speech for their applications.
Key Points Table
| Key | Points |
| --- | --- |
| Product Name | Play.ht AI |
| Starting Price | $14.25/ month |
| Free Versions | Yes Free Versions Available |
| Product Type | AI Text To Speech Tools |
| Free Trial | Available |
| API Options | Available |
| Year Founded | N/A |
| Referral Program | 30% |
| Support Email | support@play.ht |
| Website Url | Click Here To Visit |
| Device | Type of Courses | Support Channel |
| --- | --- | --- |
| Web | Improves Your Content Accessibility |  24/7 Support |
| Mac | Re-purposes Your Content | Email Support |
| SaaS | Increases Audience Engagement | |
| Chromebook | Helps You Become ADA Compliant | |
| Windows | | |
| | | |
Play.ht AI Features List
Here are some of the amazing features offered by the Play.ht tool;
Play.ht Suggest™ for chat and helpdesk tickets retrieves relevant responses from a team 
Expressive Voice Styles
Audio Analytics
Pronunciations & Phonetics Library
Play.ht AI Price & Information
The software offers a free plan, but you don't have access to all of its features. There are also pro and enterprise versions available.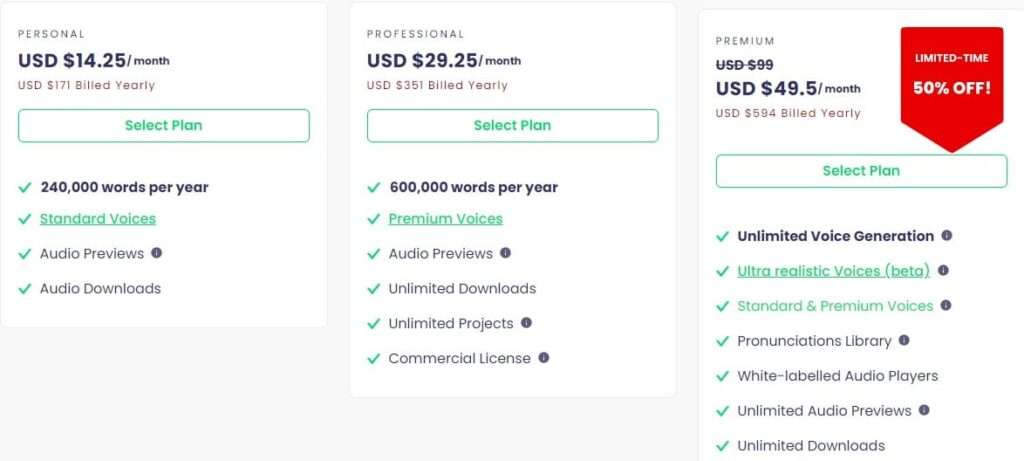 Here's what the three options offer:
Plan
Cost & Details
Personal
USD $14.25 / month
240,000 words per year
Standard Voices
Audio Previews
Audio Downloads
Professional
USD $29.25 / month 600,000
words per year
Premium Voices
Audio Previews
Unlimited Downloads
Unlimited Projects
Premium
USD $49.5 / month
Unlimited Voice Generation
Ultra realistic Voices (beta)
Standard & Premium Voices
Pronunciations Library
White-labelled Audio Players
Unlimited Audio Previews
How Does Play.ht Work?
Play.ht isn't any complicated to use. What you need to do is create an account and head to your dashboard to access Play.ht Studio. In your account, you'll be able to create a new audio using the available voices.
Simply type or copy and paste a piece of text into the editor and select the voice you need to do the voiceover for your content. There are both male and female voices that you can easily select, pick the speed and generate audio for your text. You'll be able to preview the audio files and download them as a whole or in parts.
Who Uses Play.ht AI?
So who should be using Play.ht AI tool? 
Bloggers who are struggling to create new content regularly
Small business owners who want to create original product reviews
YouTubers who want crispy and unique titles and descriptions for their videos
Social media managers who want to quickly create excellent social media posts
SEOs, affiliate marketers, and anyone who wants to write blog articles
Apps and Integrations
Unfortunately, Play.ht doesn't offer a native app for desktop or mobile devices. 
You have the option to download an extension for:
Chrome
Firefox
Microsoft Edge
Opera
Brave 
Some Outstanding Features Offer By Play.ht AI Text To Speech Tools
Ultra realistic AI voices
Built using next generation AI speech technology, Play.ht's voices capture emotion from text to generate speech that is truly human-like.
Use the Best Text to Speech AI Voices
Choose from a growing library of 907 natural-sounding AI generated voices with humanlike intonation in 142 languages and accents powered by machine learning technology.
Join Play.ht's Affiliate Program!
You can earn a 30% commission every month for every customer you refer to Play.ht.
Plug-and-play Audio Widgets for Your Content
Responsive, SEO-friendly and fully customizable audio widgets for your websites to increase content reach, accessibility and user engagement.
Improves Your Content Accessibility
Your readers don't always have the time to read, help them consume content at their own convenience, or on-the-go.
Re-purposes Your Content
Converting your content into audio is an effective way to repurpose your old-but-evergreen content.
907 AI Voices, 142 Languages
Access a growing library of 907 high-quality male and female AI voices available across 142 languages
Expressive Voice Styles
Explore a range of expressive voices styles such as newscaster, formal, and casual, amongst many others
Podcast Hosting
Get the RSS feed to publish your audio articles as podcasts on iTunes, Spotify and Google Podcasts
Email Subscriptions
Turn your listeners into subscribers using the email capture feature
Audio Analytics
See how many listens, shares and downloads your audio articles are getting
Pronunciations & Phonetics Library
Take fine control over how words are pronounced using the IPA, and save them in your prounciations library.
FAQ Play.ht AI Text To Speech Tools
Do You Offer Any Discounts
Yes, Enterprise Special Discounts are offered as part of our Enterprise Plans. They also offer a flat 20% discount to students, educators, and non-profits. Get in touch with us to see if you qualify.
Are The Ai Voices Realistic
They offer the best AI voices available in the market. The 'ultra realistic voices' are almost indistinguishable from a human voice.
Do You Have E Learning Voices
Yes, they offer a rich library of AI voices that are ideal for a diverse set of use cases such as Narrative, Marketing, Customer Support, Explainer, Gaming, Podcasts, Audiobooks, and Conversational.