What Is Speechify Ai
Text-to-Speechify goes by a few names. Some refer to it as TTS, read aloud, or even speech synthesis; for the more engineered name. Today, it simply means using artificial intelligence to read words aloud be; it from a PDF, email, docs, or any website. Instantly turn text into audio. Listen in English, Italian, Portuguese, Spanish, or more and choose your accent and character to personalize your experience. 
Key Points Table
| Key | Points |
| --- | --- |
| Product Name | Speechify Ai |
| Starting Price | $139 /year |
| Free Versions | Yes Free Versions Available |
| Product Type | AI Tools for Data Analysts |
| Free Trial | Available |
| API Options | Available |
| Year Founded | N/A |
| Support Email | Yes |
| Website Url | Click Here To Visit |
| Device | Type of Courses | Support Channel |
| --- | --- | --- |
| Web | Speech Tool | 24/7 Support |
| Mac | Voice Over Generator | Email Support |
| SaaS | Female Voice Changer | |
| Chromebook | | |
| Windows | | |
Speechify AI Features List
Here are some of the amazing features offered by the Speechify tool;
Speechify Suggest™ for chat and helpdesk tickets retrieves relevant responses from a team 
Effortlessly Reformat Dates
Modern Business
Customizable
Speechify AI Price & Information
The software offers a free plan, but you don't have access to all of its features. There are also pro and enterprise versions available.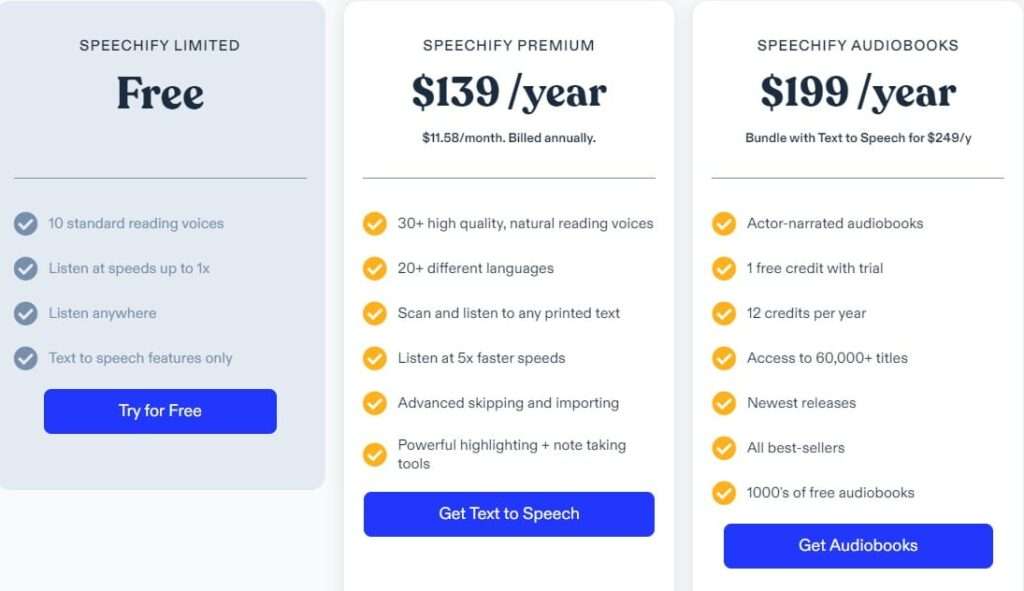 Here's what the three options offer:
Plan
Cost & Details
FREE
0$
10 standard reading voices
Listen at speeds up to 1x​
Listen anywhere​
Text to speech features only
Starter
$139 /year
30+ high quality, natural reading voices
20+ different languages
Scan and listen to any printed text
Listen at 5x faster speeds
Advanced skipping and importing
Professional
$199 /year
Actor-narrated audiobooks
1 free credit with trial
12 credits per year
Access to 60,000+ titles
Newest releases
All best-sellers
How Does Speechify Work?
Beautifully. Speech synthesis works by installing an app like Speechify either on your device or as a browser extension. AI scans the words on the page and reads it out loud, without any lag. You can change the default voice to a custom voice, change accents, languages, and even increase or decrease the speaking rate.
AI has made significant progress in synthesizing voices. It can pick up on formatted text and change tone accordingly. Gone are the days where the voices sounded robotic. Speechify is revolutionizing that.
Once you install the TTS mobile app, you can easily convert text to speech from any website within your browser, read aloud your email, and more. If you install it as a browser extension, you can do just the same on your laptop. The web version is OS agnostic. Mac or Windows, no problem.
Who Uses Speechify AI?
So who should be using Speechify AI tool? 
Bloggers who are struggling to create new content regularly
Small business owners who want to create original product reviews
YouTubers who want crispy and unique titles and descriptions for their videos
Social media managers who want to quickly create excellent social media posts
SEOs, affiliate marketers, and anyone who wants to write blog articles
Apps and Integrations
Unfortunately, Speechify doesn't offer a native app for desktop or mobile devices. 
You have the option to download an extension for:
Chrome
Firefox
Microsoft Edge
Opera
Brave
Some Outstanding Features Offer By Speechify Ai Text To Speech Tool
Get more with text to speech
Boost your understanding and focus. Remember more of what you read.
Maximize your time
Breeze through your content 2-3x faster than it takes to read it.
Do more at once
Take your reading wherever you go – to the gym, the park, or the couch
Listen on desktop or mobile devices
Anything you've saved to your Speechify library instantly syncs across devices so you can listen to anything, anywhere, anytime.
Natural-sounding human voices
The reading voices sound more fluid and human-like than any other AI reader so you can understand and remember more.
Listen to any page
Use the app to snap a pic of a page in any page and hear it read out loud to you.
Best Text Speech App
There are quite a few text-to-speech apps for iOS, Android, Chrome and Safari. Speechify is the #1 rated app in the App Store and the subscription is very affordable and with one of the best customer experience. Speechify pays attention to all customer interactions. Impeccable functionality allows you to read web pages, PDFs, Google Docs and more with dozens of text-to-speech voices to choose from. See our pricing page for more info. Speechify customers describe the speech output as almost lifelike.
Videos and Screen Captures
Speechify AI Writing Assistant Alternative
There are many alternatives to Speechify AI, depending on the specific type of speech recognition and text-to-speech technology it provides. Some examples of speech recognition and text-to-speech technology providers include:
Google Cloud Speech-to-Text: Google Cloud offers a speech-to-text service that can transcribe speech in real-time or from pre-recorded audio.
Amazon Transcribe: Amazon Transcribe is a speech-to-text service that uses machine learning to transcribe speech in multiple languages.
IBM Watson Speech to Text: IBM Watson Speech to Text is a speech-to-text service that can transcribe speech in multiple languages and provide word-level timestamps and alternative word transcriptions.
Microsoft Azure Speech Services: Microsoft Azure Speech Services offers a speech-to-text service as well as a text-to-speech service for synthesizing speech from text.
OpenAI: OpenAI offers advanced AI technologies and models, including speech recognition and text-to-speech models.