What Is Sapling AI Writing Assistant ?
Sapling is building the AI assistant for business communication, one that helps teams communicate more efficiently and effectively with their clients, across diverse use cases.
Sapling sits on top of CRMs and messaging platforms and provides real-time suggestions to help sales, support, and success teams more efficiently compose personalized responses. Managers gain conversational insights to coach and prepare teams. Try Sapling for Free
Key Points Table
| Key | Points |
| --- | --- |
| Product Name | Sapling AI Writing Assistant |
| Starting Price | 25$ |
| Free Versions | Yes Free Versions Available |
| Product Type | AI Writing Tools |
| Free Trial | Available |
| API Options | Available |
| Year Founded | 2018 |
| Headquarters: | United States |
| Support Email | support@sapling.ai |
| Website Url | Click Here To Visit |
| Device | Type of Courses | Support Channel |
| --- | --- | --- |
| On-Premise | Videos Courses | 24/7 Live Support |
| Mac | Live Online | Email Support |
| Linux | In Person | Ticket System |
| Chromebook | Documentation | |
| Windows | Webinars | |
| SaaS | | |
Sapling AI Features List
Here are some of the amazing features offered by the Sapling software tool;
Sapling Suggest™ for chat and helpdesk tickets retrieves relevant responses from a team
Grammar Check
Contextual Speller
Customizable Branding
Sapling AI Price & Information
The software offers a free plan, but you don't have access to all of its features. There are also pro and enterprise versions available.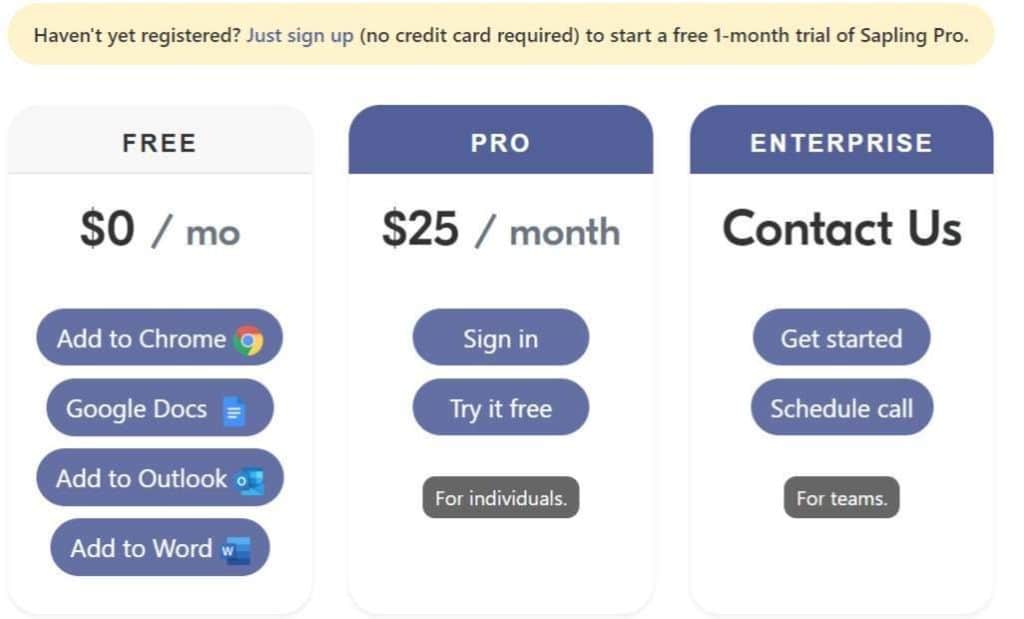 Here's what the three options offer:
| Plan | Cost & Details |
| --- | --- |
| FREE | 0$ With the free version of the AI grammar checker, you have access to its basic features, AES-256 and TLS encryption, and 20 snippets. |
| Pro | 25$/m You get with all the features from the free version, plus unlimited snippets, advanced premium suggestions, and autocomplete everywhere. You'll also have email and ticket support. |
| Enterprise | Ask Price This will give you access to all the pro version features. You also have access to conversational insights, team analytics, and dedicated support. Other advantages are bulk user provisioning, advanced security options, API, custom integrations, and single sign-ons. |
How Does Sapling Work?
When you launch Sapling, it scans your entire document. Then, it gives you suggestions on how to make your content clear. If you agree with the suggestions, you can click a green button to have Sapling re-write particular sentences for you.
We tried Sapling on Google Chrome, Microsoft Edge, and Word. It took a couple of seconds to scan the entire document, but it was worth the wait. The program detected all of my mistakes and helped me fix my content.
Who Uses Sapling AI?
So who should be using Sapling AI writing tool?
Bloggers who are struggling to create new content regularly
Small business owners who want to create original product reviews
YouTubers who want crispy and unique titles and descriptions for their videos
Social media managers who want to quickly create excellent social media posts
SEOs, affiliate marketers, and anyone who wants to write blog articles
Apps and Integrations
Unfortunately, Sapling Grammar checker doesn't offer a native app for desktop or mobile devices.
You have the option to download an extension for:
Chrome
Firefox
Microsoft Edge
Opera
Brave
You can also download add-ons for Google Docs, Word, Outlook, etc.
Some Outstanding Features Offer By Sapling AI Writing Assistant
Reduce response and handle time
Autocomplete Everywhere™ Provides Deep Learning-powered Autocomplete Suggestions Across All Messaging Platforms, Allowing Agents To Compose Replies More Quickly. Sapling's Snippet Macros Allow For Quick Insertion Of Common Responses.
Improve grammar and language quality
Sapling catches 60% more language quality issues than other spelling and grammar checkers using a machine learning system trained on millions of English sentences. Ensure professional and consistent communication and avoid embarrassing typos and irritated prospects and customers.
Beyond suggested edits, quality scoring and error reports help managers identify coaching opportunities and improve quality over time. Enterprise teams can define custom settings for compliance and content governance.
Distribute knowledge
Ensure team knowledge is shared in a snippet library accessible on all your web applications. Insert messages with text expansion shortcuts/macros. Perform blazing fast search on your knowledge library for compliance, upselling, training, and onboarding.
Increase efficiency and customer satisfaction
Sapling improves productivity by reducing repetitive messaging tasks for customer-facing teams, and faster, higher-quality responses means happier customers. Manage high volume with real-time human-in-the-loop responses to provide the efficiency benefits of a chatbot without the deadends.
Videos and Screen Captures
Sapling AI Writing Assistant Pros Or Cons
| PROS | CONS |
| --- | --- |
| Improves Writing Quality: Sapling AI Writing Assistant uses advanced algorithms and machine learning techniques to analyze text and provide suggestions for improvement. This helps writers produce high-quality content in a fraction of the time it would take to do so manually. | Reliance on AI: Although Sapling AI Writing Assistant uses advanced algorithms and machine learning techniques to analyze text, it may not always provide the best suggestions. The tool relies on artificial intelligence, which can sometimes lead to errors or misinterpretations. |
| Real-Time Suggestions: The tool provides real-time suggestions as you type, allowing you to make changes to your text quickly and easily. This improves the speed and efficiency of the writing process. | Limited Customization: The tool provides a set of pre-determined suggestions, which may not always meet the needs of every writer. Some users may find the lack of customization options limiting. |
| User-Friendly: Sapling AI Writing Assistant has a simple, intuitive interface that is easy to use, even for writers who are not tech-savvy. | Cost: Sapling AI Writing Assistant is a paid tool, and some users may not be able to afford it. |
| Integrates Seamlessly: The tool integrates seamlessly with your existing writing workflow, allowing you to continue to use your favorite tools and platforms without any additional setup. | Requires an Internet Connection: The tool requires an internet connection to function, which may not be ideal for users who need to write in offline environments. |
| Saves Time: Sapling AI Writing Assistant takes care of the tedious and time-consuming aspects of writing, freeing up writers to focus on the creative side of their work. | |
Sapling AI Writing Assistant Alternative
Some alternative writing assistance tools to Sapling AI include:
Grammarly
Grammarly is a writing tool that uses artificial intelligence to check for grammar, spelling, and punctuation errors in written text. It also provides suggestions for improving word choice, sentence structure, and overall writing style.

Grammarly can be used as a browser extension, a desktop app, or a mobile app, and supports multiple languages. It's aimed to help users communicate effectively and confidently in written form, whether for personal, academic or professional use.
Conclusion
Sapling AI Writing Assistant is a highly effective tool for improving the quality of writing. It offers a range of benefits, including real-time suggestions, a user-friendly interface, and seamless integration with existing writing workflows. Additionally, it saves time and takes care of the tedious aspects of writing, freeing up writers to focus on the creative side of their work.
However, it is important to keep in mind that the tool relies on artificial intelligence, which can sometimes lead to errors or misinterpretations. Additionally, it may not always provide the best suggestions and is limited in terms of customization options. The cost of the tool may also be a consideration for some users.
Overall, Sapling AI Writing Assistant is a valuable resource for writers looking to improve the quality of their writing. Whether you are a professional writer, a student, or simply someone who wants to improve their writing skills, this tool is definitely worth considering.
FAQ Sapling AI Writing Assistant
Pricing for Sapling AI Writing Assistant starts at $25 per month.
Who Is Founder Of Sapling AI Writing Assistant?
The Founder Of Sapling AI Writing Assistant Is Bart Macdonald and Andy Crebar 
How To Contact Sapling AI Team?
You Can Contact Sapling AI Team At support@sapling.ai
Sapling AI Writing Assistant works with these users and organization types: Mid Size Business, Small Business, Enterprise, Freelance, Nonprofit, and Government.