What Is Emailtree AI
It looks that Emailtree AI is a piece of software that employs artificial intelligence (AI) to assist in managing email inboxes. On its website, Emailtree AI claims to automatically classify and categorize incoming emails as well as send customised email responses to frequent questions using natural language processing (NLP) and machine learning techniques. To assist customers in tracking their email productivity and performance, the program also provides email metrics such as email volume, response times, and open rates.
Key Points Table
| Key | Points |
| --- | --- |
| Product Name | Emailtree |
| Starting Price | 15$ Month |
| Free Versions | Yes Free Versions Available |
| Product Type | AI Email Tool |
| Free Trial | Available |
| API Options | Available |
| Year Founded | N/A |
| Support | 24/7 |
| Website Url | Click Here To Visit |
| Device | Type of Courses | Support Channel |
| --- | --- | --- |
| Web | AI Email Tool | 24/7 Support |
| Mac | Text Generation | Email Support |
| SaaS | Documentation | |
| Chromebook | | |
| Windows | | |
Emailtree AI Features List
Here are some of the amazing features offered by the Emailtree tool;
Emailtree Suggest™ for chat and helpdesk tickets retrieves relevant responses from a team 
Reply faster to your customers
Smart Reply with AI
Customizable
Emailtree AI Price & Information
The software offers a free plan, but you don't have access to all of its features. There are also pro and enterprise versions available.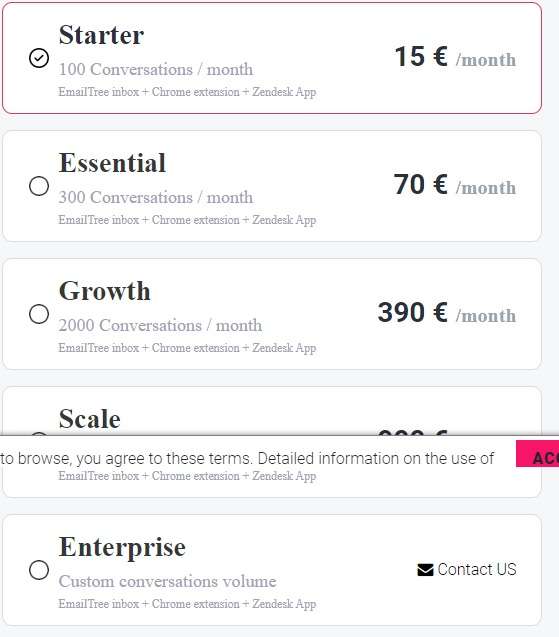 How Does Emailtree Work?
With Emailtree AI, incoming emails are analyzed and understood using artificial intelligence and machine learning algorithms. Here is a brief explanation of how the tool functions:
Your email account (such as Gmail or Outlook) is connected by Emailtree AI, which then checks your inbox for brand-new messages.
The technology analyzes each email's content using natural language processing (NLP) algorithms to pinpoint important details including the sender, subject, and email body.
Then, based on its content, Emailtree AI assigns each email to one of a number of pre-defined categories (such as "important," "spam," "personal," etc.).
Emailtree AI offers customised responses that may be adjusted by the user for typical questions and requests, such as setting up meetings or responding to frequently asked questions.
The Emailtree AI algorithms may be trained by users to gain a deeper understanding of their preferences and email usage over time, enabling the tool to make more accurate predictions and offer better recommendations.
Additionally, Emailtree AI provides customers with email analytics and reporting capabilities that can be used to monitor email efficiency, spot bottlenecks, and improve email workflows.
Who Uses Emailtree AI?
So who should be using Emailtree AI tool?
Bloggers who are struggling to create new content regularly
Small business owners who want to create original product reviews
YouTubers who want crispy and unique titles and descriptions for their videos
Social media managers who want to quickly create excellent social media posts
SEOs, affiliate marketers, and anyone who wants to write blog articles
Apps and Integrations
Unfortunately, Emailtree doesn't offer a native app for desktop or mobile devices.
You have the option to download an extension for:
Chrome
Firefox
Microsoft Edge
Opera
Brave
You can also download add-ons for Google Docs, Word, Outlook, etc.
Some Outstanding Features Offer By Emailtree AI Resume Generator
Emailtree AI Resume Generator Pros Or Cons
| PROS | CONS |
| --- | --- |
| Saves time: Hirable AI Resume Generator automates the resume writing process, which saves time and effort for job seekers. | Limited creativity: Since the tool uses pre-designed templates, job seekers may not have much flexibility to customize the design and layout of their resumes. |
| Improves quality: The tool uses AI to analyze and optimize resumes, ensuring that they are well-written, error-free, and tailored to the specific job. | Requires internet access: Hirable AI Resume Generator is an online tool, which means that job seekers need a stable internet connection to use it. |
| Offers customization: The Hirable AI Resume Generator offers a range of customizable templates and formats, allowing job seekers to create a unique and professional-looking resume. | May not be suitable for all industries: Some industries, such as creative or artistic fields, may require more creative and unique resumes that may not be well-suited to the tool's templates. |
| Provides cover letter generator: The tool also generates customized cover letters, which can help job seekers to introduce themselves and their skills to potential employers. | Limited human interaction: While the tool offers customization, it does not replace the value of human interaction with professional resume writers, who can offer more personalized advice and feedback. |
Hirable AI Resume Generator Alternative