Best Alternatives Of Chatgpt have emerged in recent years, each bringing its own unique features and capabilities to the table. One notable alternative is OpenAI's "ChatGPT Plus," an enhanced version of the original model with improved accuracy and performance. Another option is "Dialogflow" by Google, which offers advanced natural language understanding and conversation management, making it suitable for building sophisticated chatbots.
Additionally, "Rasa" provides an open-source framework for developing AI chatbots with a focus on customization and control. "IBM Watson Assistant" stands out for its powerful integration with various business systems and data sources, catering to enterprise-level solutions.
Lastly, "Microsoft Azure Bot Service" offers a comprehensive platform for creating AI-powered bots that can seamlessly integrate with other Microsoft services. These alternatives cater to different needs, from individual users seeking simplicity to businesses requiring robust AI-driven communication solutions.
What is Chatgpt?
architecture. GPT stands for "Generative Pre-trained Transformer," which refers to a type of machine learning model designed for various natural language processing tasks. ChatGPT is trained on a massive amount of text data from the internet, enabling it to understand and generate human-like text based on the prompts it receives.
ChatGPT is particularly well-suited for generating coherent and contextually relevant responses in conversational settings. It can understand and generate text in a conversational manner, making it useful for tasks like answering questions, providing explanations, offering suggestions, and even engaging in creative writing.
Users interact with ChatGPT by providing a prompt or message, and the model responds with text that continues the conversation. It's often used to build chatbots, virtual assistants, content generators, and other applications where natural language understanding and generation are crucial.
Here is List of Best Alternatives Of Chatgpt
Microsoft Bing.
Perplexity AI.
Google Bard AI.
Jasper Chat.
Chatsonic.
Claude 2.
Llama 2.
HuggingChat.
Pi, your personal AI
GitHub Copilot X
10 Best Alternatives Of Chatgpt
1. Microsoft Bing
Microsoft Bing is a web search engine developed by Microsoft. It was launched in 2009 as a successor to Microsoft's previous search engines, including Live Search and MSN Search. Bing's primary function is to provide users with search results from the internet based on their queries.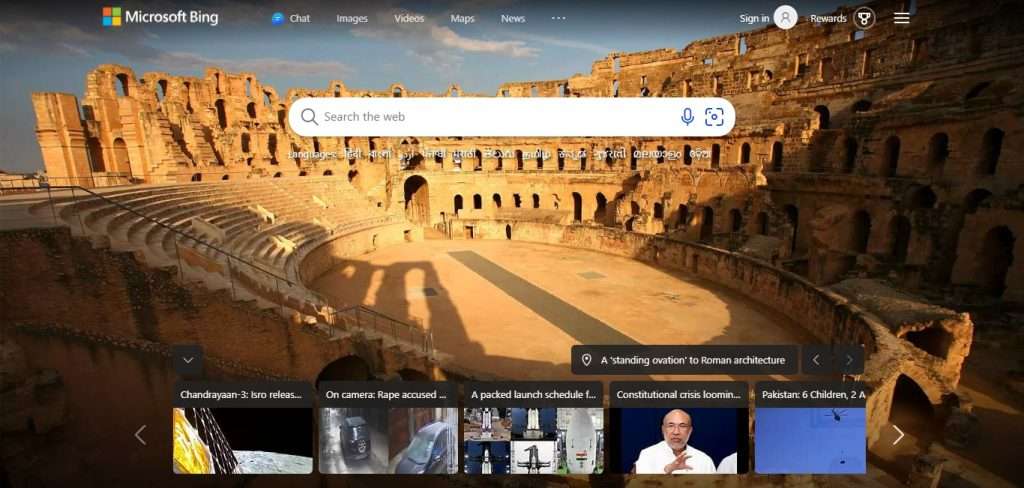 Bing offers a range of features beyond basic search, including image search, video search, news search, maps, translations, and more. It also provides a "Visual Search" feature that allows users to search for information using images instead of text. In addition to web search, Bing provides search capabilities for specific niches like travel, health, shopping, and local businesses.
Bing has undergone continuous development and improvement over the years, aiming to provide more accurate and relevant search results. It has also integrated with Microsoft's other products and services, such as Windows and Office, to offer seamless search experiences across different platforms.
2. Perplexity AI (Best Alternatives Of Chatgpt)
An alternative to ChatGPT that has also been trained using OpenAI's API, Perplexity AI works well and provides accurate responses. The website itself has a simplistic design and is easy to navigate. The program includes ChatGPT-like features, such as the capacity to carry on discussions and offer straightforward to subtle responses. Perplexity, on the other hand, even references the sources it uses to respond to your questions, unlike ChatGPT.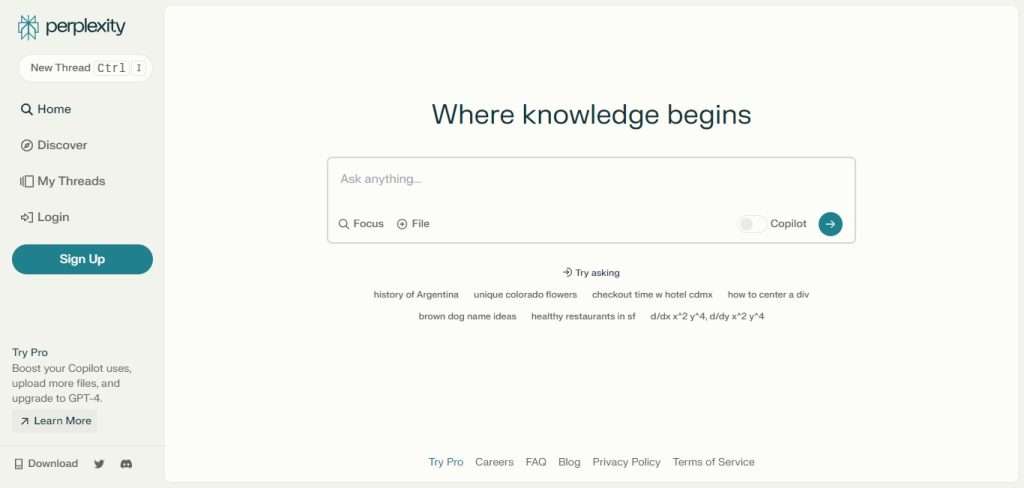 When given information, the AI references its source at the end of each phrase, much like Wikipedia, and sometimes even draws information directly from it. I searched through the sources throughout the time I utilized the AI to seek for instances of copy-pasting but found none. It's encouraging to see Perplexity taking the necessary precautions.
3. Google Bard AI.
In the wake of ChatGPT's viral success, Google emerged as a focal point of interest for many enthusiasts. The company's prolonged silence was attributed to its cautious approach, a response to concerns regarding the potential misuse of its chatbot AI. However, in a recent development, Google has chosen to break its silence and unveil a new venture.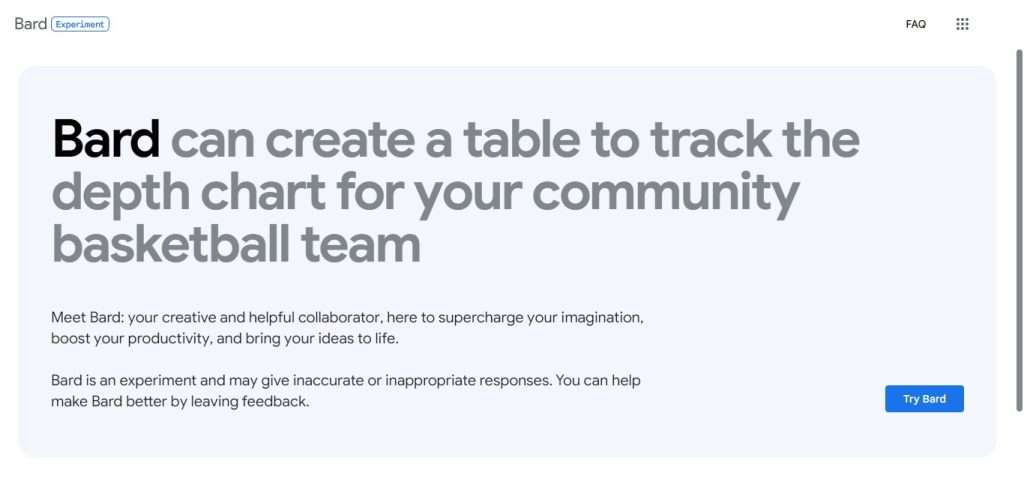 Enter Google Bard, an experimental conversational AI service that has captured the curiosity of tech aficionados. Notably powered by Google's cutting-edge PaLM 2 LLM, Bard represents the company's stride forward in language and conversational models. This significant advancement in Google's AI endeavors holds the promise of shaping future interactions and communications through the utilization of their next-generation language model.
4. Jasper Chat (Best Alternatives Of Chatgpt)
Jasper has a long history of success in the field of artificial intelligence content creation. However, Jasper also includes a relatively new chatbot in addition to its content generation capabilities and other services.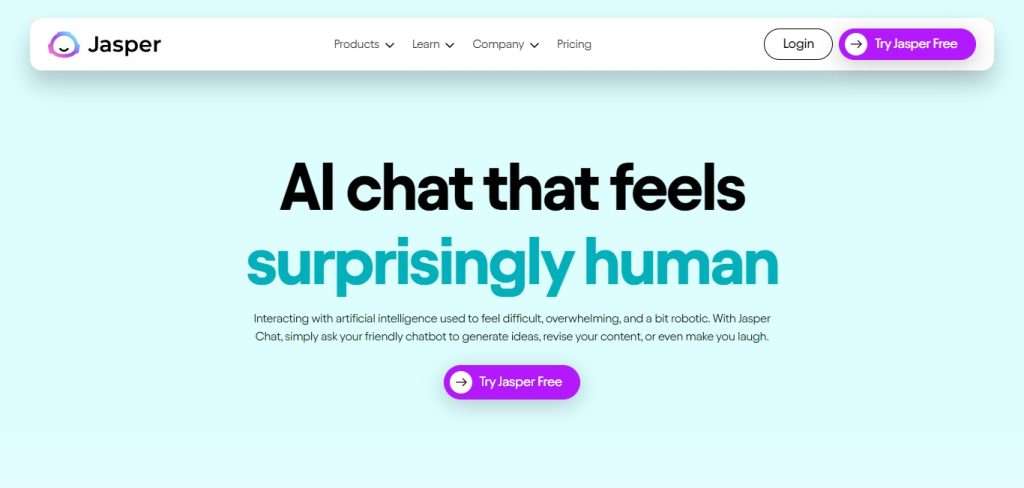 This ChatGPT substitute, aptly called Jasper Chat, is built on GPT 3.5 as well as additional language models and has OpenAI as a partner. JasperChat, in contrast to ChatGPT, was created for businesses like marketing, advertising, and other similar fields.
5. Chatsonic.
Chatsonic has emerged as a prominent contender among the latest array of ChatGPT alternatives, garnering significant attention in recent times. Leveraging its foundation on ChatGPT, Chatsonic inherits the extensive capabilities that have made its predecessor renowned.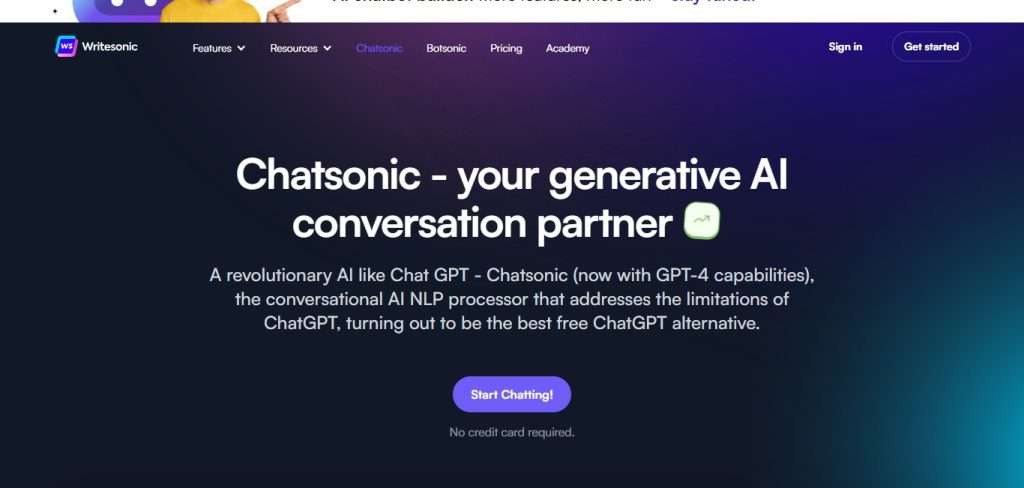 What sets Chatsonic apart is its impressive expansion of features and knowledge base, facilitated by its unique ability to access the vast expanse of the internet – a functionality that remains beyond the reach of the original ChatGPT. This enhanced access to information positions Chatsonic as a powerful AI chatbot, capable of delivering broader and more informed interactions to its users.
6. Claude 2 (Best Alternatives Of Chatgpt)
In the ever-expanding landscape of AI, ChatGPT faces formidable competition, and stepping onto the scene is Claude 2, a refined AI chatbot developed by Anthropic. Notably backed by Google, Anthropic emerges as a significant contender in the OpenAI arena. Unlike traditional LLM models, Claude 2 takes a distinctive approach, harnessing an amalgamation of what the company terms "proprietary AI techniques.
" These techniques encompass a neural network, training data, and other elements, all orchestrated to foster natural and engaging conversations. With its focus squarely set on facilitating authentic interactions, Claude emerges as a benevolent and forthright bot, offering assistance without the risks often associated with AI technology.
7. Llama 2
Building on the triumph of Llama, Meta has taken a decisive step by introducing Llama 2 to the open-source landscape. This iteration arrives with a significant expansion of offerings, featuring pre-trained and fine-tuned models spanning a parameter range of 7 billion to an impressive 70 billion. A noteworthy enhancement lies in its support for an extended context length of 4096 tokens, effectively doubling its predecessor's capability.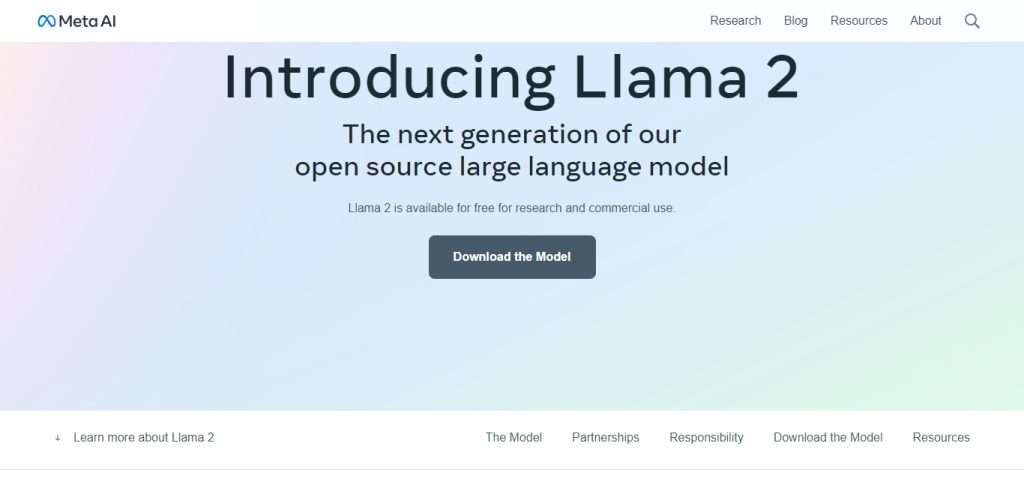 Notably, Llama 2's training data comprises a staggering 2 trillion tokens, reflecting Meta's commitment to imbuing the model with an even deeper understanding of language and context. This evolution stands as a testament to Meta's dedication to advancing AI capabilities while catering to the needs of a rapidly evolving technological ecosystem.
8. HuggingChat (Best Alternatives Of Chatgpt)
HuggingChat stands out as a top-tier open-source alternative to ChatGPT, proudly brought to life by HuggingFace, a leading platform renowned for hosting a multitude of AI services. Anchored in the Meta AI (LLaMA) language model, HuggingChat wields an impressive arsenal of approximately 65 billion parameters, showcasing its robust linguistic capabilities.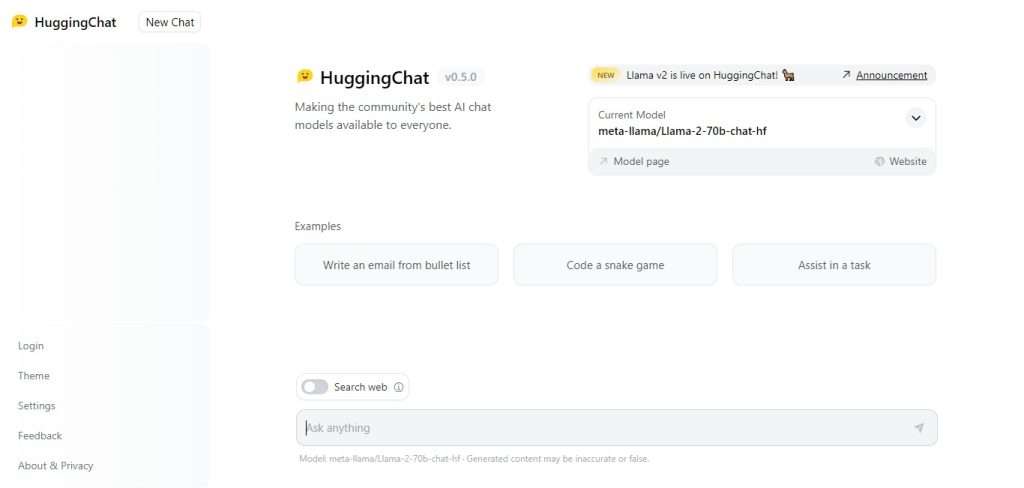 Despite the seemingly moderate parameter count, HuggingChat refuses to compromise on efficiency. With its prowess grounded in the vast expertise of HuggingFace, this chatbot emerges as a powerful contender, adept at facilitating engaging and insightful conversations.
9. Pi, your personal AI
In the realm of ChatGPT alternatives, Pi stands out as a distinct offering, promising an entirely novel experience. Positioned as a supportive and intelligent AI companion, Pi's approach to interaction takes a fresh direction. Unlike conventional chatbots, Pi orchestrates conversations dialogue by dialogue, presenting a unique conversational flow.
An intriguing facet of Pi is its active participation in the conversation, distinguishing it from many other assistants. Notably, Pi offers users the choice of four distinct voices, each astonishingly lifelike and curiously reassuring, enhancing the immersive experience. With its innovative design and interactive demeanor, Pi offers a refreshing departure from the norm, setting itself apart in the landscape of AI conversation tools.
10. GitHub Copilot X (Best Alternatives Of Chatgpt)
The advantages of tools like ChatGPT extend beyond the student demographic, as evidenced by GitHub Copilot X, a solution tailored for programmers grappling with complex challenges. Positioned as a lifeline for developers navigating intricate coding landscapes, Copilot X delves beyond the realms of mere auto-completion.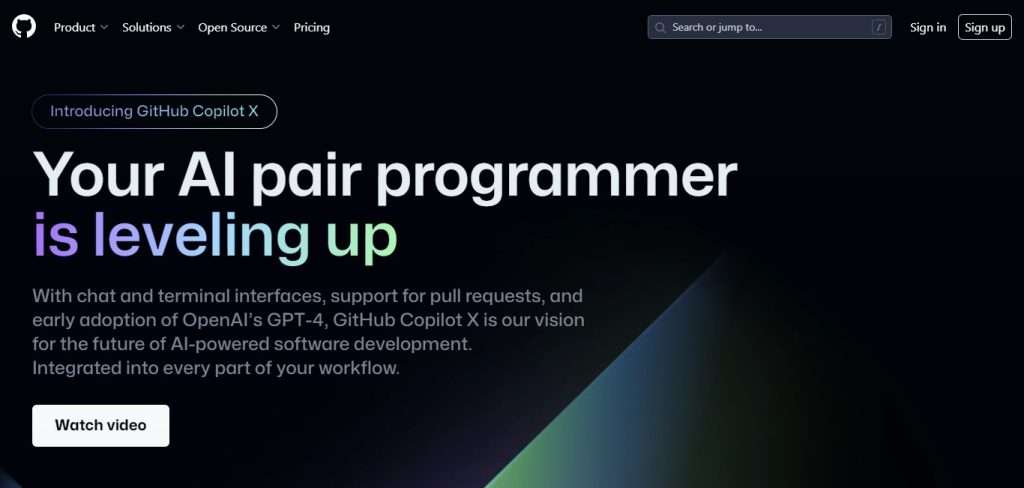 Rooted in the auto-completion principle, this tool distinguishes itself by venturing further into the realm of programming assistance. It goes beyond suggesting code snippets, enabling real-time suggestions and even the completion of entire functions.
In essence, Copilot X becomes a steadfast ally for programmers battling moments of creative stagnation, effectively acting as a remedy for the infamous "programmer's block."
Best Alternatives Of Chatgpt Conclusion
In the landscape of AI-driven language models and chatbots, several commendable alternatives to ChatGPT have surfaced, catering to a range of needs and preferences. OpenAI's "ChatGPT Plus" offers enhanced accuracy and performance, while "Dialogflow" by Google focuses on sophisticated conversation management. "Rasa" stands out for its customizable framework, and "IBM Watson Assistant" excels in integrating with business systems.
"Microsoft Azure Bot Service" provides a comprehensive platform for enterprise solutions. More recent options like "Perplexity AI" prioritize source transparency, while "Claude 2" by Anthropic introduces unique AI techniques. "HuggingChat" showcases efficiency through HuggingFace's expertise, while "Pi" presents a novel conversational approach.
For programmers, "GitHub Copilot X" emerges as a lifeline with real-time coding suggestions. These alternatives collectively demonstrate the dynamic evolution of AI technology, offering diverse solutions for various users and industries.
Best Alternatives Of Chatgpt FAQ
What are the best alternatives to ChatGPT?
There are several noteworthy alternatives to ChatGPT that cater to different needs. Some of the top alternatives include Dialogflow, Rasa, IBM Watson Assistant, Microsoft Azure Bot Service, Perplexity AI, Claude 2, HuggingChat, Pi, and GitHub Copilot X.
What is Dialogflow?
Dialogflow, developed by Google, is a powerful conversational AI platform that excels in understanding and managing natural language conversations. It's widely used for building chatbots and voice assistants with advanced capabilities.
What is Rasa?
Rasa is an open-source framework for building AI-powered chatbots and virtual assistants. It focuses on customization and control, allowing developers to create chatbots tailored to their specific requirements.
What is IBM Watson Assistant?
IBM Watson Assistant is an AI platform designed for creating intelligent virtual agents that can handle complex interactions. It's known for its integration capabilities with various business systems and data sources.
What is Microsoft Azure Bot Service?
Microsoft Azure Bot Service offers a comprehensive platform for building AI-powered bots that can seamlessly integrate with other Microsoft services. It's suitable for developing chatbots and virtual assistants for enterprise-level solutions.