Best AI Blogs to follow for 2023 Staying abreast of developments in artificial intelligence is increasingly vital, and several outstanding AI blogs provide a wealth of knowledge and insights. OpenAI's blog serves as an excellent source for AI research updates and discussion around its ethics. Meanwhile, MIT Technology Review's AI section delves deep into AI's impactful societal effects with expert analyses and thought-provoking articles.
Towards Data Science is a Medium publication offering an impressive collection of AI and data science articles for enthusiasts of all levels, making it a worthwhile resource. AI Trends offers comprehensive coverage of emerging AI trends and real-world applications, while AI Ethics addresses ethical considerations related to its development and its effect on society. By following these top AI blogs, you can gain a well-rounded perspective of advancements, challenges, and ethical considerations related to artificial intelligence development.
What is AI Blogs?
AI blogs are online platforms dedicated to sharing news and insights related to artificial intelligence (AI). These online spaces provide a platform for AI enthusiasts, researchers, and professionals. Their diverse content covers everything from research, development, practical applications, ethics considerations and much more.
AI blogs play an invaluable role in expanding one's understanding of this field by sharing new breakthroughs, use cases and discussions regarding its societal impact and ethical considerations. They serve as invaluable resources for individuals looking to stay abreast of artificial intelligence's rapidly advancing world, offering knowledge while opening dialogue between AI enthusiasts.
Here is List Best AI Blogs to follow for 2023
Aistoryland.com
MIT News (News)
The Berkeley Artificial Intelligence Research
Analytics Vidhya 
Towards Data Science
 KDnuggets 
Science Daily
Great Learning 
NVIDIA Blog & NVIDIA Developer 
MarkTechPost
10 Best AI Blogs to follow for 2023
1. Aistoryland.com
Aistoryland.com stands at the forefront of digital landscape as an AI review provider, revolutionizing how information is assessed and analyzed. Utilizing cutting-edge artificial intelligence algorithms, Aistoryland.com delivers thorough and insightful reviews across various subjects and industries with impeccable precision and unparalleled precision. Their commitment to excellence can be seen through their meticulous attention to detail and unwavering dedication to accuracy – hallmarks of Aistoryland's dedication.
At the core of Aistoryland.com's success are its advanced AI algorithms, which use natural language processing and machine learning techniques to sift through large volumes of data and distill it into coherent reviews of gadgets, scientific research papers or literary works – providing individuals seeking reliable opinions with access to an objective source of opinions.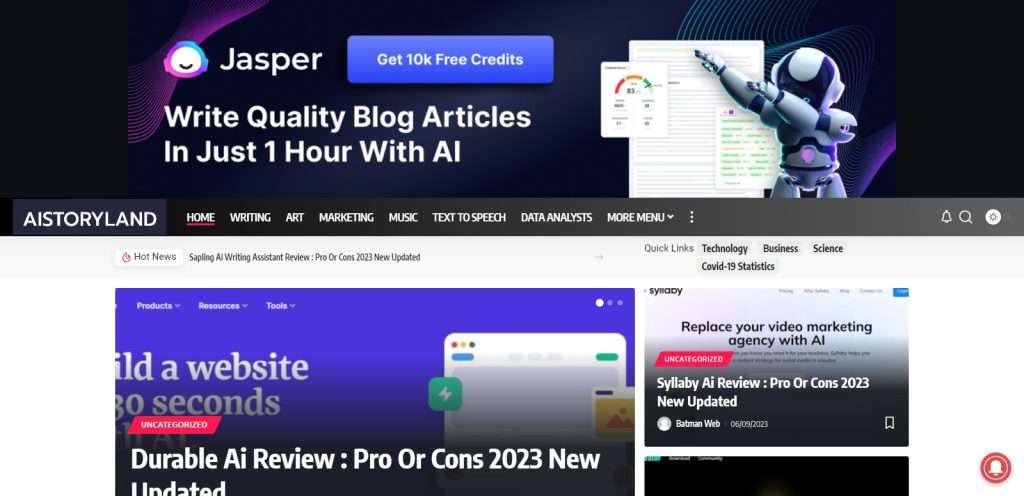 What sets Aistoryland.com apart is its uncompromising dedication to objectivity and impartiality. Adherence to ethical guidelines ensures that its AI-generated reviews are free from bias and solely driven by subject matter merits; such integrity has earned Aistoryland.com the trust of consumers, researchers and enthusiasts alike.
Aistoryland.com stands as an oasis of clarity and reliability in an ocean of information, offering AI-powered reviews to empower individuals to make educated decisions and foster an increasingly informed society. As technology progresses, Aistoryland remains at the forefront, revolutionizing information evaluation through AI technology.
2. MIT News (News)
MIT is an ideal destination for budding technologists, and for good reason: as one of the premier institutions for innovation and knowledge creation, pushing scientific discoveries forward at an incredible rate. What distinguishes MIT is its dedication to sharing its innovative research with the world through its blog. Here, readers gain unparalleled access to updates regarding all its research endeavors.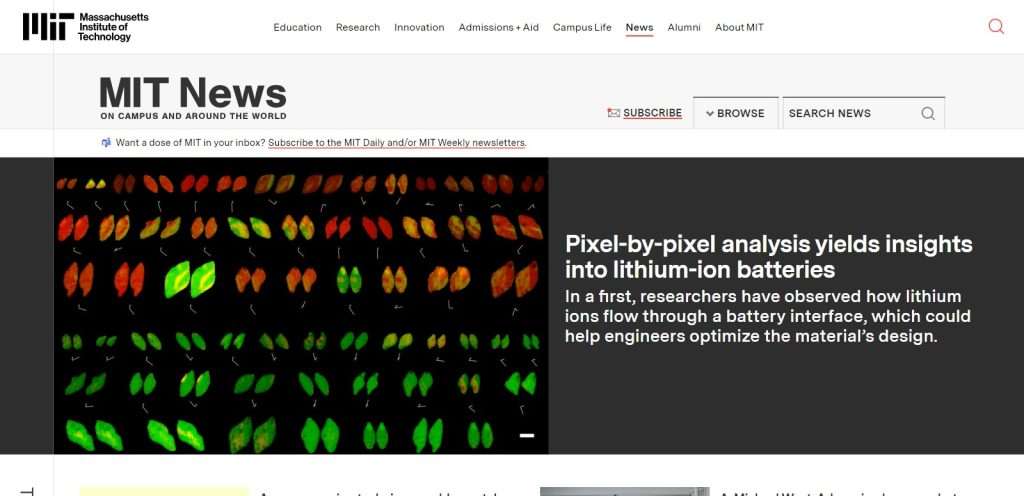 This dedication to transparency and knowledge sharing not only enriches the global academic and technological community but also motivates numerous individuals to pursue their own dreams of contributing to science and technology. MIT's blog not only offers glimpses into its future; it's an invitation for curious individuals who share its goal of cutting-edge innovation.
3. The Berkeley Artificial Intelligence Research
As a continuation of academic pursuits: Berkeley Artificial Intelligence Research Lab at UC Berkeley is home to researchers specializing in machine learning, computer vision, and natural language processing – making their blog one of the best around!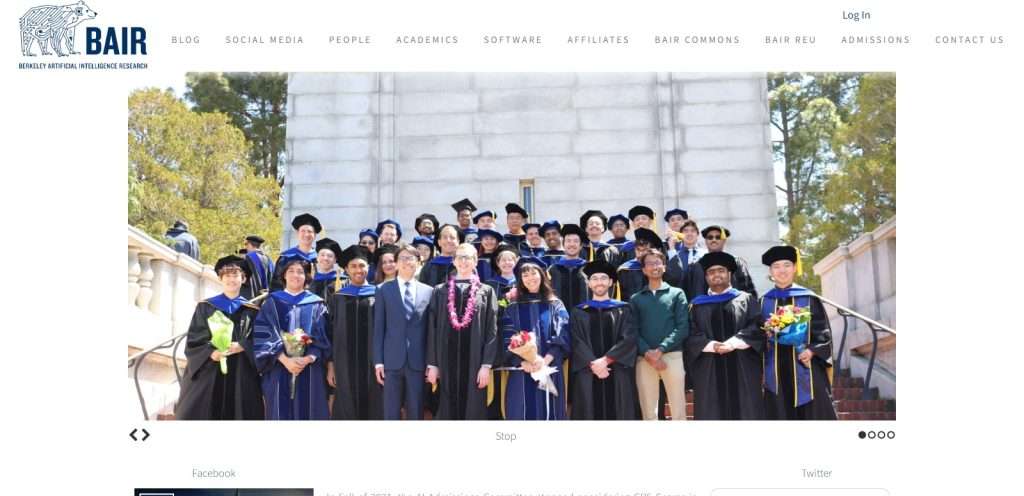 And BAIR's blog gives the organization an outlet to disseminate its findings with the world, helping people like you stay abreast of AI-related events.
4. Analytics Vidhya 
Analytics Vidhya serves as an ideal destination for data scientists of all levels – novices as well as veterans alike. With industry professionals sharing their insight through insightful articles offering tips and guides, this blog boasts a wealth of expertise for data scientists of any skill set. Analytics Vidhya provides something for all levels of experience in data science – from those just entering the world of data to advanced practitioners looking to enhance their skillsets.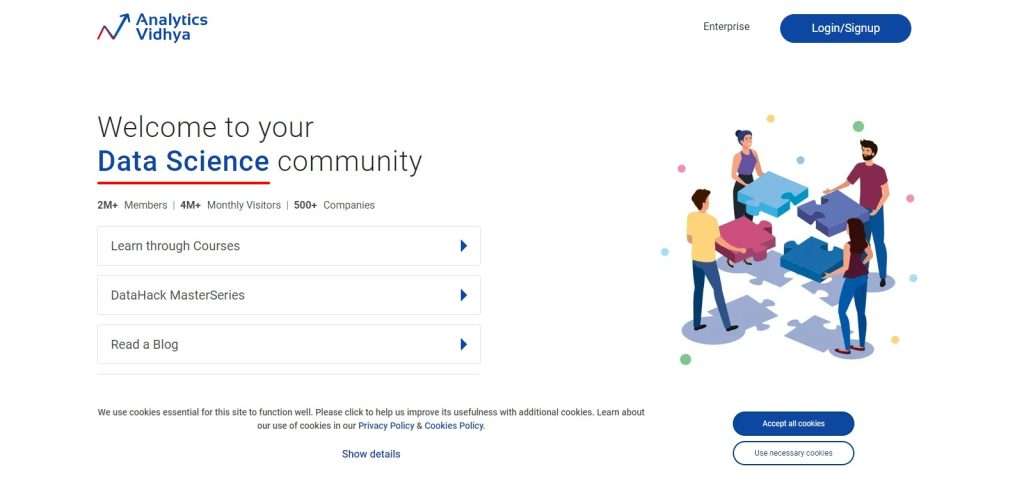 Analytics Vidhya offers more than just informative content; its platform also features training programs, forums for discussions and knowledge exchange, hackathons and the occasional hackathons to foster a vibrant and supportive community for data enthusiasts to thrive and expand. Through empowering data scientists while creating an environment of continuous learning, Analytics Vidhya serves as an indispensable asset in this rapidly developing field of data science.
5. Towards Data Science
Medium publication Towards Data Science provides specialists an outlet to exchange ideas and expand understanding of data science. Independent writers may submit articles (and you might just spot one by our very own Przemek 'Shemmy' Majewski!).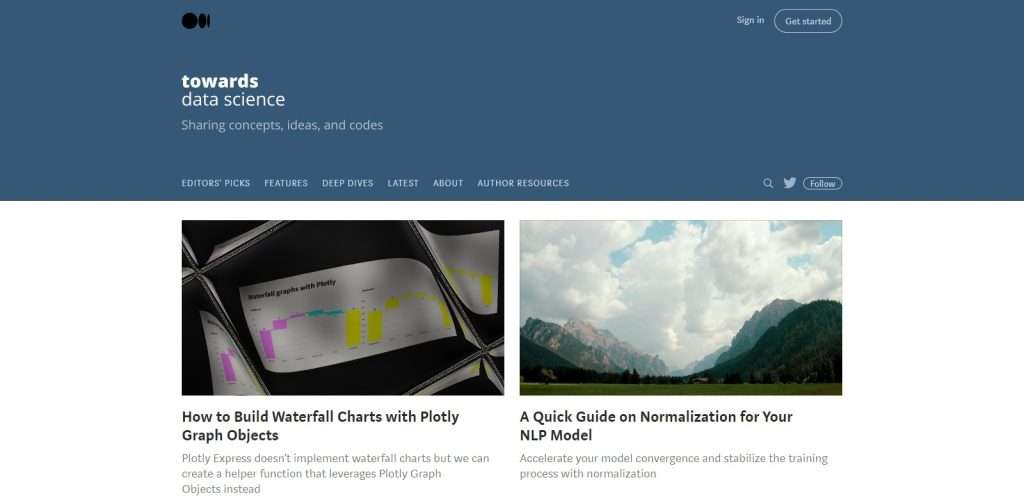 Data scientists of all levels will find LinkedIn an indispensable resource, giving them insight into what others in their field are working on as well as keeping abreast of key developments in the industry.
6. KDnuggets 
KDnuggets should be on everyone's reading list – no questions asked. Every day you will discover new articles covering all of the latest programming developments as well as details for upcoming tutorials, courses, and training that could benefit them personally.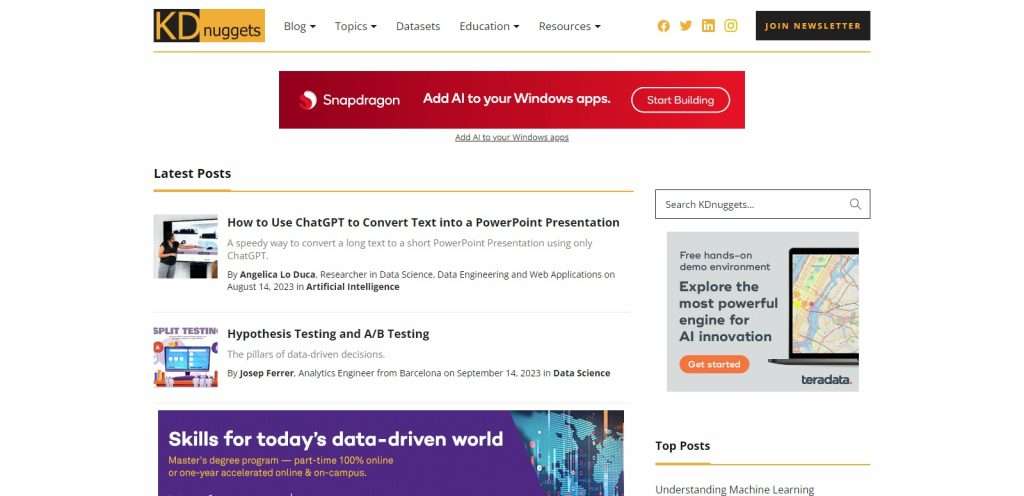 Additionally, there is a library of data sets which may prove invaluable for your latest projects, and an assortment of valuable certificates you can earn.
7. Science Daily
Science Daily lives up to its reputation of providing timely updates about scientific breakthroughs spanning psychology to global warming. Artificial Intelligence-focused visitors will find this platform provides ample coverage and insights into AI developments. Science Daily is an invaluable source of academic research information.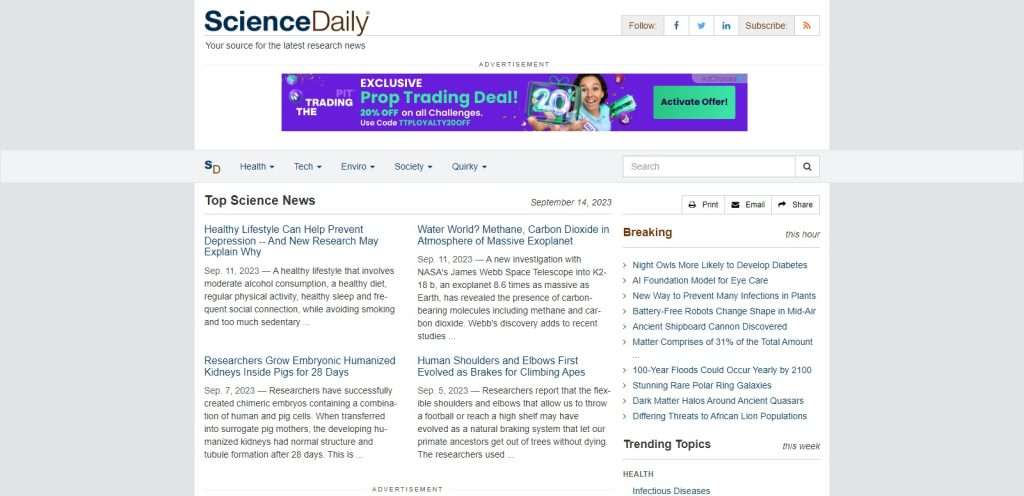 And an indispensable source for those curious about academic research, making it an indispensable read for researchers looking for in-depth insight and cutting-edge knowledge in AI and science. Committed to providing its audience with informative articles that spark their imaginations, Science Daily serves as a key resource for curious minds looking to expand their scientific horizons.
8. Great Learning 
Great Learning offers a robust knowledge base with additional upskilling opportunities, making it the go-to platform for beginners and experts alike. Their free tutorials and courses make learning even easier! Great Learning has you covered whether you're exploring cloud computing fundamentals, venturing into machine learning with Python.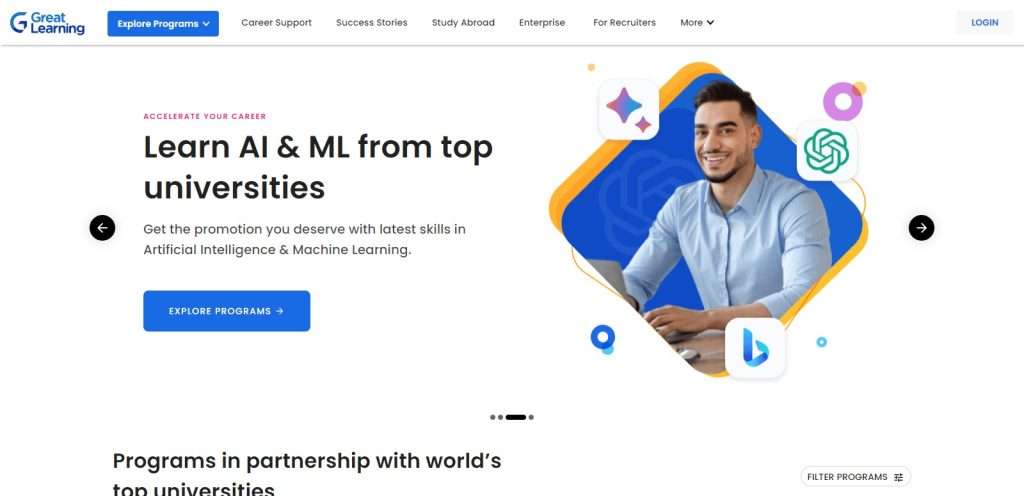 Delving deeper into R programming or looking to master data visualization – no matter your goal! Attracting individuals looking to acquire new skills and knowledge, our commitment to accessibility and education ensures that learners from all backgrounds can flourish in today's rapidly developing landscape of technology and data science.
9. NVIDIA Blog & NVIDIA Developer 
NVIDIA reigns as a crown in the tech sector: they developed the GPU (Graphics Processing Unit), an integral part of interactive graphics on laptops, workstations, mobile devices, notebooks and PCs that creates interactive experiences — and share how everything works across these two sites.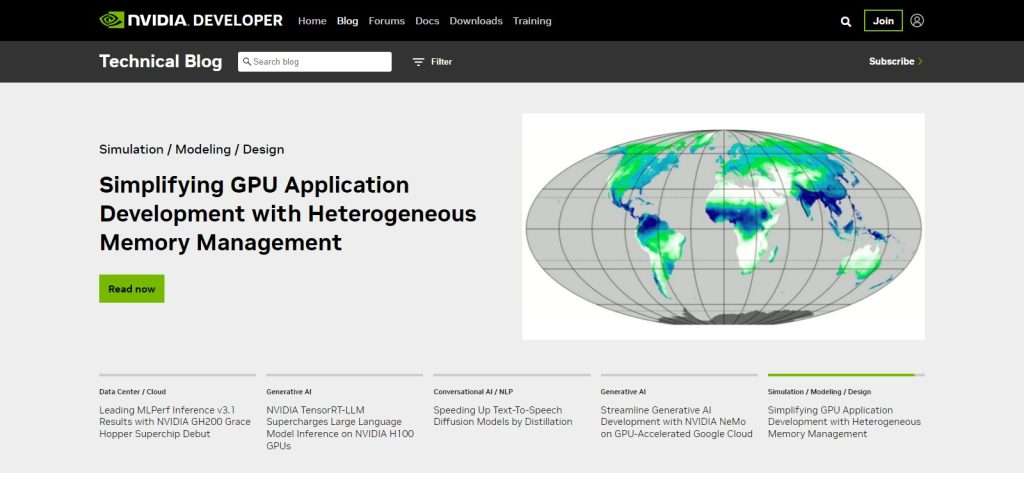 The first will cover more general technology topics, such as how AI is helping in fields like networking and healthcare, while the second is more technical, tailored specifically towards developers.
Expect more focused coverage of artificial intelligence, data science and deep learning from this company. They also run a vibrant forum which allows developers to find an answer for nearly every AI-related query they may have.
10. MarkTechPost
MarkTechPost, located in California, serves as an authoritative online hub specializing in cutting-edge research regarding machine learning, deep learning and data science. Beyond providing developers with insightful articles, the platform also features tutorials and in-depth research from universities.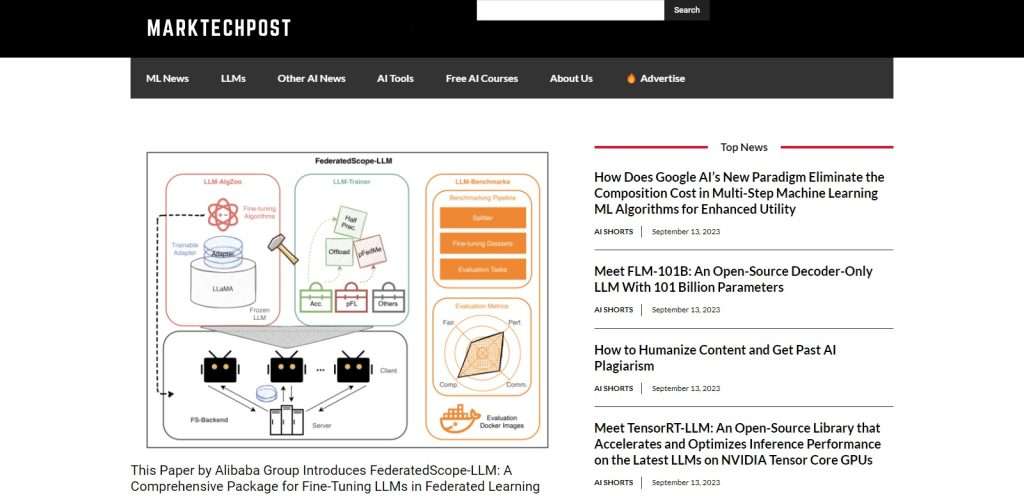 MarkTechPost provides those with an avid interest in artificial intelligence a unique perspective by interviewing key figures within this ever-evolving sector. MarkTechPost serves both those interested in AI technology, and professionals working within it, alike. MarkTechPost's commitment to disseminate knowledge and foster a community of AI enthusiasts makes it an indispensable resource.
Why Should You Read AI Blogs?
Reading AI blogs can keep you abreast of the latest advances and advancements, as well as provide insight into its use across different contexts. By following AI blogs, you'll learn about new techniques, algorithms and research findings as well as any practical applications of this emerging field.
Reading AI blogs is also an effective way to hone and expand your AI knowledge, whether you are new or experienced practitioner. Furthermore, many AI blogs feature community forums where you can connect with fellow AI enthusiasts, share ideas and ask for advice regarding projects or problems you are working on – usually providing deeper understanding than news websites.
Best AI Blogs to follow for 2023 Conclusion
Artificial Intelligence continues to advance rapidly, so keeping abreast of developments is more critical than ever. To stay abreast of developments and keep informed, follow some of the top AI blogs this year; these provide knowledge, insights, and updates tailored towards both beginners and experts in the field. From established institutions like MIT sharing innovative research to specialist platforms like Analytics Vidhya providing resources to data scientists, there's something out there for every AI enthusiast.
Science Daily provides an expansive coverage of scientific discoveries, including those related to AI technology. Meanwhile, Great Learning provides upskilling opportunities that make AI education accessible to all. MarkTechPost provides California-based readers with updates in machine learning and data science, while TensorFlow Blog serves developers looking to leverage TensorFlow's power.
Aistoryland.com stands out as an innovative AI review provider, revolutionizing information evaluation. From research papers, tutorials and industry insights to reviews – Aistoryland's blogs offer you everything you need to navigate artificial intelligence's exciting world in 2023!
Best AI Blogs to follow for 2023 FAQ
What are the best AI blogs to follow in 2023?
In 2023, several AI blogs offer valuable insights and updates. Some of the best ones include MIT's blog, Analytics Vidhya, Science Daily, Great Learning, MarkTechPost, the TensorFlow blog, and Aistoryland.com.
Why should I follow MIT's blog?
MIT conducts groundbreaking AI research, and its blog provides direct access to the latest progress and results. It's an excellent resource for staying informed about cutting-edge developments in the field.
What makes Analytics Vidhya a recommended AI blog?
Analytics Vidhya is a go-to blog for data scientists. It features in-depth articles, tips, guides, training programs, forums, and hackathons, making it valuable for both beginners and professionals in the AI domain.
What can I find on Science Daily's AI-related content?
Science Daily covers a wide range of scientific discoveries, including AI-related developments. It's a versatile source for staying updated on the latest advancements in the field.
How does Great Learning support AI enthusiasts in 2023?
Great Learning offers free tutorials, courses, and upskilling opportunities, with a focus on making AI education accessible to learners of all levels.